Aluminium Packaging: Top Trends Your Company Should Know About
Aluminium packaging provides a complete barrier to moisture, light, oxygen, and bacteria. Products as diverse as soup, coffee, chocolates, tobacco, toiletries, tennis balls, chilled foods and take-away meals are packaged in it.  Aluminium's ability to form any shape has made it the most versatile packaging material in the world. A key benefit is that aluminium packaging materials can be 100% recycled and reused an infinite number of times.
Aluminium Foil and Can Packaging
The first aluminium rolling plant opened in 1910 in Switzerland. In 1911, Switzerland–based Tobler began wrapping it's world famous triangular chocolate bar, Toblerone in foil. Foil packaging usage and improvements grew to include the use of print, colour and laminate aluminium. Foil packaging often ensures that the shelf life of groceries can exceed 12 months.
Aluminium beverage cans are the most environmentally friendly and most recyclable type of container in the world. The can itself does not get rusty or lose its properties in any way. On average, it takes 60 days to manufacture one aluminium can, fill it up, deliver it to a store, sell it to a customer, recycle it and make a new can from it. Global growth of the aluminium beverage can industry is projected at four to five percent in 2016 – this trend to continue.
Savings in Transport 
Aluminium as a packaging material also enables savings through transporting goods. For example, Kraft Foods replaced glass bottles with composite aluminium bags. The amount of beverages they could transport in a single vehicle doubled as the aluminium composite bags weigh only 6.1% of the weight of the beverages themselves.
Looking at the future
The chart below shows 2014's packaging industry. Metal (Aluminium) make up around 17% of the packaging market. It is predicted that the global packaging industry's annual growth will be 4% in 2017. With sales expected to reach over 1 billion US dollars by 2018.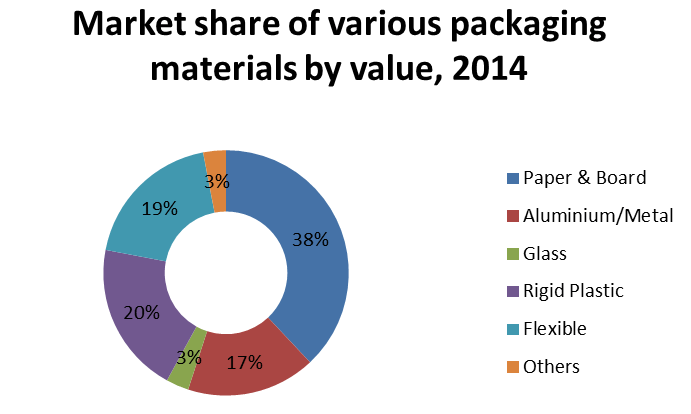 The increased growth of urbanisation, There are a number of trends responsible for this expected growth. Driving packaging demand in China, India, Brazil, Russia and other emerging economies are:
The development of retail chains
The expanding healthcare and cosmetic sectors
The increasing presence of women in the workforce will result in a preference for convenience packaged food and beverage items.
In developed countries the trend is towards smaller households. Accompanying this is a rise in demand for smaller pack sizes for convenience. There are also a growing number of men interested in health and beauty products.
Lightweight
The weight of aluminium beverage cans have been reduced further and further over the years. The first beverage can over 60 years ago weighed more than 80 grams. Today a 330 ml aluminium can weighs about 13 grams.
The thickness of aluminium foil used to be a standard minimum thickness of 7 microns in converter foil. This has been reduced to 6.5 and now 6.35 microns. Lodec Jinshu is now offering 5.50 microns aluminium foil for the packaging industry. The thinnest foil we supply is 4.5 microns for the use of capacitors.
References:
European Aluminium http://bit.ly/1T6gSjs Aluminium.org http://bit.ly/1T6h3ez  Freedonia group http://bit.ly/23HxKSP  Aluminium Leader http://bit.ly/23HxTFM Smither spira http://bit.ly/1SCxOuM  Canadean report http://bit.ly/1qriWsR