With effect from 1 January 2017, the Chinese government has adjusted the export tax for all major industrial metals. With few exceptions the tax was significantly reduced or completely abolished. This could lead China to export more metals in the future, so that the respective world market is better supplied. The table below shows the most important changes from 2016 to 2017:
Change in export tax of industrial metals
2016
2017
Aluminium ingot
20%
0%
Copper cathode (99.999%) ingot
30%
0%
Nickel ore and concentrates
0%
15%
Zinc ore and concentrates
30%
0%
Lead ore and concentrate
30%
0%
Refined Tin
10%
0%
Reference: Chinese Finance ministry, Platts, ITRI and Commerzbank research

Export of Chinese aluminium will be impacted the most
According to Commerzbank the greatest impact will likely be on the export of aluminium ingots. The reason for this is that there is an estimated surplus of 2, 3 million tonnes of aluminium in China. China produces 54% of the world's aluminium (31.6 million tons of aluminium in 2016 according to the Aluminium Institute (IAI). This year the production is likely to be expanded since new low-cost production facilities have been added, alongside the re-commissioning of previously shut-down smelters. These new facilities will add 2, 8 – 3 million tonnes of annual capacity. Another 2 million tonnes per annum will be contributed by facilities that were re-started. The impact of the tax reduction on the exports and prices of semi-finished aluminium products remains to be seen. At this stage the impact on export of semi-finished products of aluminium has not changed.
More Aluminium exports from China will increase tension between USA and China
In January 2017, the USA (United States of America) accused China of artificially boosting the capacity, production and market share of Aluminium. USA claims that with the help of illegal government subsidies China was pushing the global price of aluminium up. The Chinese government immediately rejected the allegations. By exporting more aluminium, the already well supplied global market would become even more overwhelmed.
LME and SMM Aluminium price ratio becoming equal
Looking at the price of Aluminium on the London Metal exchange (LME) and Shanghai Metal Market (SMM) it is clear to see these two prices are becoming equal. The graph below illustrates the prices in USD over the last 9 months and the two price lines are growing closer together.  This has historically indicated that China's Aluminium price is becoming more competitive.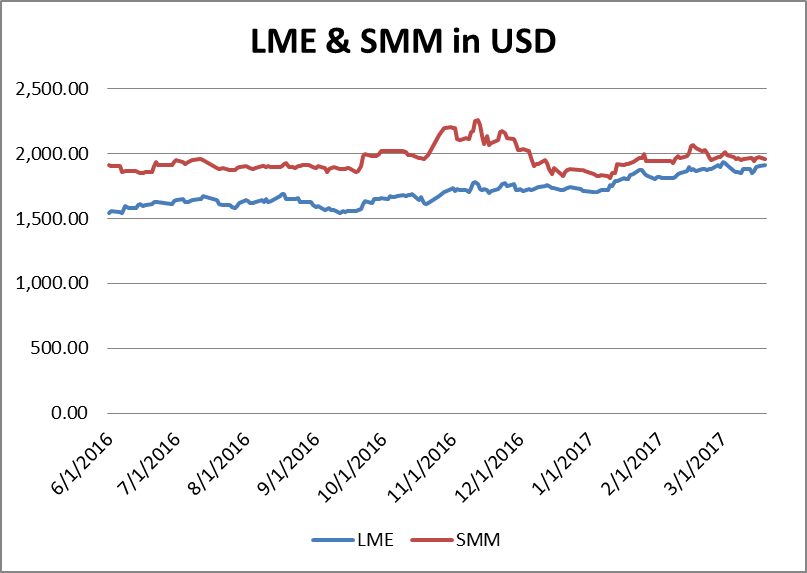 China Air pollution
In February, China finally approved its Air Pollution Control regulations, which came into effect on 1 March 2017. China will force about a third of aluminium capacity in the provinces of Shandong, Henan, Hebei and Shanxi to be shut down over the winter season, which runs from the middle of November through the middle of March. As seen in the last weeks the announcement has had no impact on the supply of aluminium so far. In the long term this could be an issue that might impact the aluminium supply and price.
Premiums to Rise in Japan
With aluminium premiums on the rise in the USA and Europe, and Japanese inventories falling amid growing demand, producers are upping the ante by charging the Pacific Rim a higher premium for the second quarter in a row. As stated earlier, China has enough capacity and a large supply of aluminium.
Contact Lodec Jinshu with your requirements for all forms of semi-finished products in non-ferrous metals including, aluminium foil, aluminium sheets and plates and aluminium tubes. We offer a large variety of alloys and sizes, competitive prices, short delivery times and competent staff to assist you.
References: http://reut.rs/2n1vaXX | http://bit.ly/2nLSSvg | http://bit.ly/2neGroZ | http://bit.ly/2n1znLq