The aluminium price in 2017 on the London Metal Exchange (LME) climbed to a 20-month peak on 24 January at $1,870 after reports of potential capacity cuts in China. In the last quarter of 2016 the aluminium price has been trading between $1,700 and $1,750 per metric ton on the LME and between $2,000 and $2,250 per metric ton on the Shanghai Futures Exchange (SHFE). The graph below shows the price climb of aluminium on the LME and SHFE in USD – the margin between the two are getting smaller.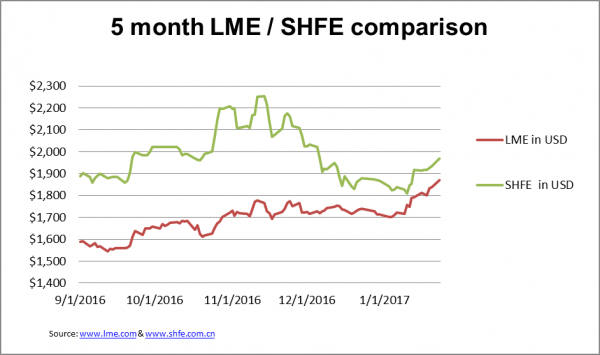 What can be expected to happen to the aluminium price in 2017?
According to MetalMiner there are factors that indicate the aluminium price in 2017 will rise. Looking at the supply side of aluminium three possible disruptions will negatively affect the supply of aluminium and therefore increase the price:
1. Trade Barriers between US & China
The new president of the United States (US) is focused on pro-US policies and will likely cause trade barriers between the USA and China. This can turn into supply disruptions as international aluminium producers lose profitability in their export business. Aluminium exporters (mostly in China) will have to cut production as they lose business.
2. Increased Pollution in China
China has ongoing pollution problems caused by the industrial production sector and has gotten much worse recently. Coal burning is the biggest contributor to air pollution in China. Last month the Chinese authorities sent inspection teams to 23 cities. The scale of the inspection shows that the Chinese government is serious about decreasing air pollution. It was reported by Bloomberg that China is drawing up plans that would halt about 3.3 million tonnes of operational aluminium capacity during the winter to combat air pollution.
3. Rising Raw Material Costs
The following factors support a rising aluminium price in 2017:
Increase in the price of Aluminia and risk of a deficit in the supply of Alumina following Chinese curtailments.
Increase in coal prices (coal prices in China have more than doubled) since China reduced the hours for workers in its coal sector, in a bid to control pollution.
Higher cost of energy since the middle of 2016 will have an impact on the price of aluminium
The Lunar New Year holiday in China is starting January 27 and is also expected to subdue metals demand as Chinese factories close for two to three weeks.
Lodec Jinshu supply aluminium semi-finished products in a large variety of sizes and alloy's. We offer competitive prices, short delivery times and competent staff to assist you. We can arrange transport and financing of material to your port of choice. Please don't hesitate to contact us right now with your inquiries. Materials include:
Aluminium Sheet/Plate, Strip, Foil or Tread Plate
Aluminium Coils
Aluminium Round bar
Aluminium Tube/pipe
Fuentes: http://bit.ly/2k9dlYx | http://bit.ly/2jbCKSc | http://bit.ly/2ksJ4Sk | http://bit.ly/2eF1BeY